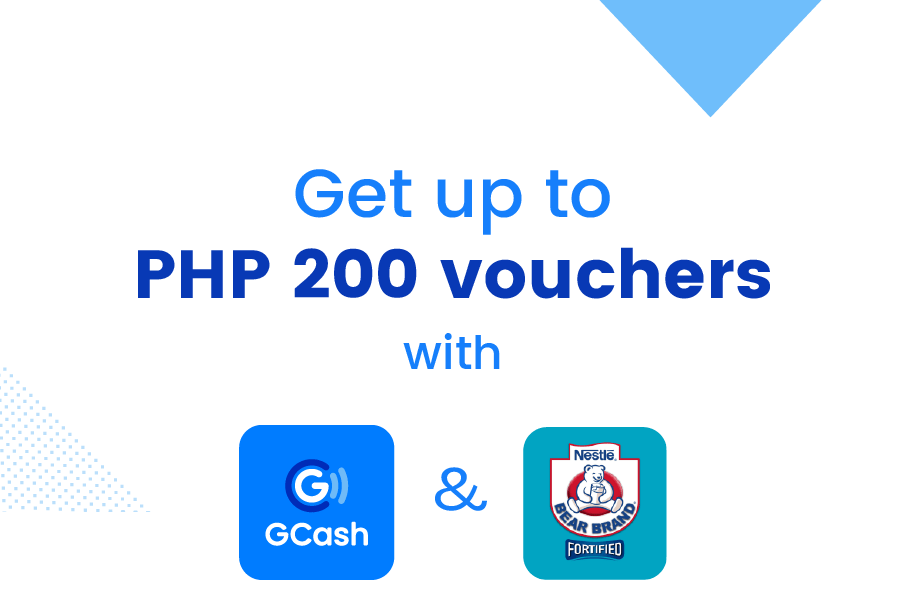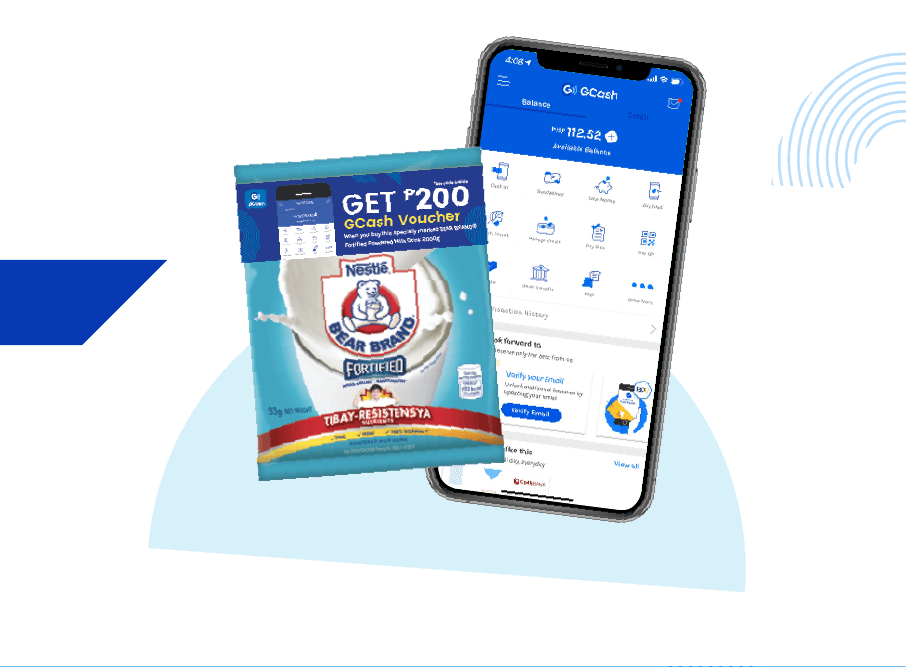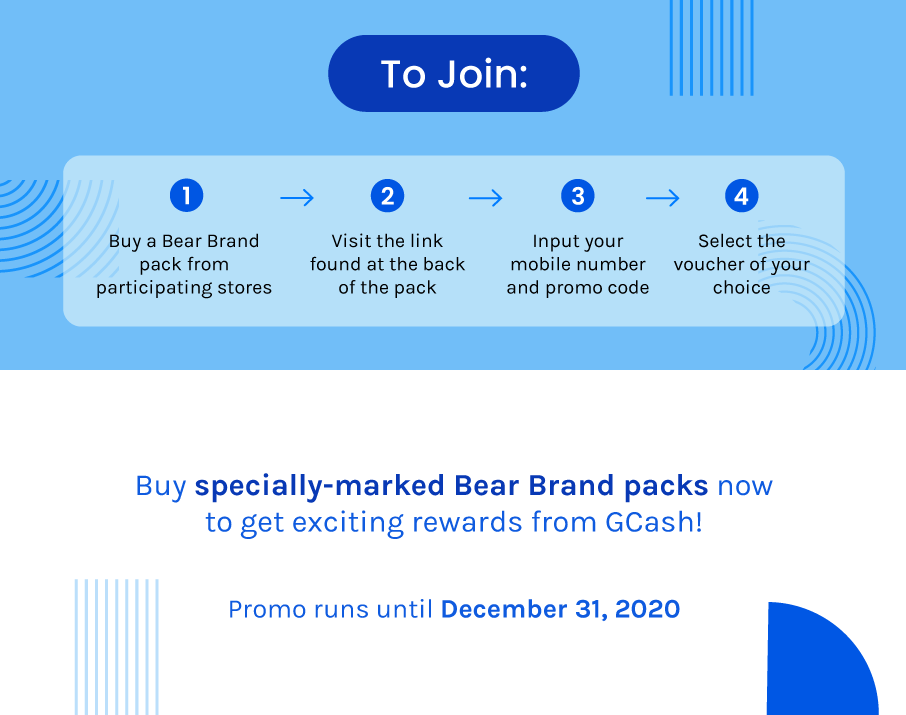 How to Join the Promo
Purchase a Bear Brand promo pack from the store 

Once consumed, find the promo code inside the pack 

A link will be printed in the back portion of the pack. Input link in your Chrome/mobile browser

You'll be redirected to a page. Input your mobile number and promo code found inside the pack

Choose the reward that you prefer from the list – supermarket QR, cinema QR, pharmacy QR, Pay Bills Cashback 

Confirm and tap on 'Claim'

Voucher will be seeded the next day. For Pay Bills cashback, reward will be given a day after you've completed the Pay Bills transaction. Be sure to complete it after you successfully claim from the GCash page.
Tips on claiming the promo 
You can only claim one voucher per day. If you purchased more than one promo pack, make sure that you claim the vouchers only once per day. 

Make sure that you input the correct link in small cases. Here are shortcuts you can use: 

go.gcash.com/bb2kg

go.gcash.com/bb320g

go.gcash.com/bb150g

go.gcash.com/bb99g

go.gcash.com/bbflavors300g

Make sure that there are no unnecessary spaces before or after the promo code before you tap on 'Claim' (i.e. _ABCD123 or ABCD123_)

For Pay Bills cashback, make sure that you complete your Pay Bills transaction first. Be sure to complete it after you successfully claim from the GCash page. Reward will be sent a day after you've completed the Pay Bills transaction. 

Seeding may go beyond 24 hours from the hour you've claimed but it's expected to arrive the day after you claimed
How to Use the Reward
For QR Vouchers 
Head to your chosen GCash Merchant 

Upon checkout, scan the QR code

Tap on 'Available vouchers' and choose the Bear Brand voucher. Amount will automatically be deducted from your total checkout balance

Confirm payment
For Pay Bills Cashback
A day after your Pay Bills transaction, the cashback will be seeded to your account 

No need to check the voucher pocket because the cashback will automatically be reflected in your GCash balance
Tips on using the reward 
Make sure that the merchant is part of our GCash Merchant List 
Supermarkets – http://bit.ly/bbsupermarket

Cinema – http://bit.ly/bbcinema

Pharmacy – http://bit.ly/pharmacybb
Promo Mechanics
UPDATE
 As of Nov 18, maximum redemption limit of 180,000 for Bear Brand PMD 2KG has been reached (80,000 printed on pack but was extended to 180,000 throughout the promo)
Promo Mechanics

Buy a Bear Brand promo pack and redeem your GCash voucher using the promo code found inside the pack. Incentives vary per SKU. 

User Guidelines

Open to all users who purchase the Bear Brand promo pack. The amount varies based on SKU:

Bear Brand 99g – P15 Incentive

Bear Brand 150g – P20 Incentive

Bear Brand RSMD 300g – P40 Incentive

Bear Brand CHOCO 300g – P40 Incentive

Bear Brand 320g – P40 Incentive

Bear Brand 2kg – P200 Incentive

To redeem the incentive, the customer, after buying a qualified promo pack:

Finds the product code inside the promo pack

Heads to the specific GCash link provided in the promo pack (back portion detailing the instructions). Note: Each SKU has a distinct GCash link.

Be redirected to a GCash page where user can claim the incentive

Inputs the mobile number and promo code

Chooses the preferred incentive out of the list 

Receives a prompt for successful claim

Receives incentive seeding in 24 hours  

(If customer is not a GCash user) Taps on 'Head to Explore the GCash App' to download and register 

(Within 24 hours) Receives an SMS regarding the successful seeding

Incentive is directly reflected in the GCash Voucher Pocket or GCash balance based on the type of incentive claimed

Each user can redeem max of one (10) code/incentive per day.

The amount per incentive varies per SKU purchase but the customer can choose from any of the following incentives: 

Cinema-specific QR Voucher

Supermarket-specific QR Voucher

Pharmacy-specific QR Voucher

The QR voucher can be used even without GCash balance in any participating merchants (see complete list of merchants

here

). The cashback will only be seeded 24 hours after successful Pay Bills transaction and will automatically be reflected in the GCash balance.

If a customer registers for the first time and claims a GCash incentive from this Bear Brand promo, he/she is exempt from receiving any additional onboarding incentive for new GCash users.  

In case of dispute in respect to the GCash subscriber's eligibility, actual SMS, etc, GCash

shall

investigate and decide on the matter within  two to three (2-3) business days. All questions or disputes regarding the holder's eligibility for the promo, or for any redemption shall be resolved by GCash at its discretion. 

All incentives given to the qualified user shall be deemed final unless the customer files a complaint (i.e. incorrect cashback amount credited or uncredited cashback amount) within 15 days from the end of the promo period. 

GCash reserves the right and has the authority to deny rewards for incorrect user data, fraudulent transactions, infringement on the terms of use, or other illegal actions as mandated by Philippine law.

Guidelines on the GCash Incentives

No minimum spend is required for all QR vouchers.

For the cashback, seeding will be done  within 24 hours after the user's successful Pay Bills transaction. No minimum amount is required for the Pay Bills transaction.

Maximum redemption per SKU (as printed on the Bear Brand pack) 

Bear Brand PMD 99g  – 800,000 units

Bear Brand PMD 150g – 1,500,000 units

Bear Brand CHOCO 300g and Bear Brand RSMD 300g – 150,000