Free Uno Size J.Coffee with GCash!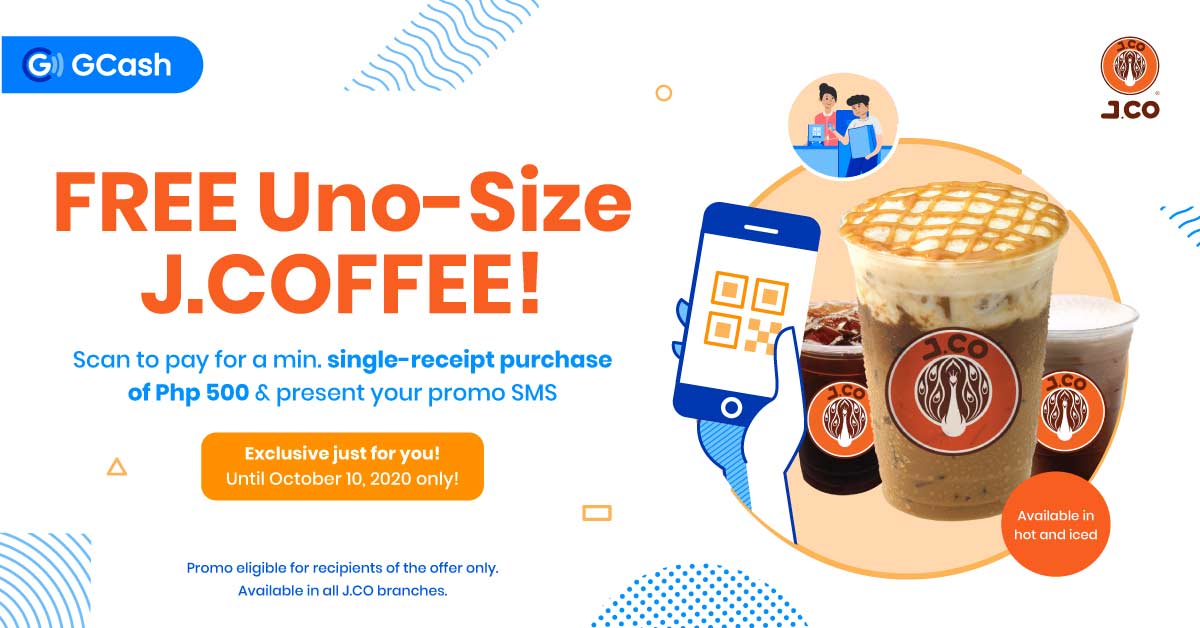 Promo Mechanics
Promo Guidelines:
Eligible users just need to present SMS to claim freebie for a minimum of P500 GCash Scan to Pay single receipt purchase
J.Co staff will verify the SMS and its sender.
Once the freebie is received, customer shall delete the SMS sent by GCash used for claiming.
Customer can claim the freebie once during the promo duration
Customer will also be asked to log her name and Gcash registered mobile number. this shall be completed by each store and submitted to J.CO Headoffice.
Customer may choose on the following variants for their free uno size drink: Jcoccino, Caramel Jcoccino, Americano, Coffee of the Day, Café Latte, Hazelnut Latte, Mocha Espresso (*Available in hot & iced only)
Promo runs from September 11 to October 10, 2020.
Promo is available daily in all J.Co branches!
Terms and Conditions
Promo is open only to selected GCash subscribers.
Users may only claim their freebie during the promo period.
This promo cannot be claimed via online transactions.
Promo will run from September 11-October 10, 2020
The promo can only be redeemed once during the promo period.
This offer cannot be used in conjunction with any other GCash promo and/or discount.
GCash shall serve only as a mode of payment for this program. GCash will assume no responsibility in the warranty of products or quality of services being offered by the participating GCash partner establishment.
The offer is not exchangeable for cash, credit or other goods and services
Frequently Asked Questions