Cash for Income Loss on Accidents
Powered by Singlife
Product Description
What is Cash for Income Loss (Accidents)?
GInsure in partnership with Singlife offers Cash for Income Loss on Accidents for as low as Php209/year that allows policy owners to get cash to replace income in case of disability or death due to a covered accident. With just a few taps, you can get insured for up to Php3,600,000.
Note: Premium depends on coverage level, take-home income, mode of transportation, occupation type, health status, and medical history.
Sample Premium Computation
Take-home income:

Php 20,000/month

Mode of transportation:

Drives own car

Occupation Type:

Office worker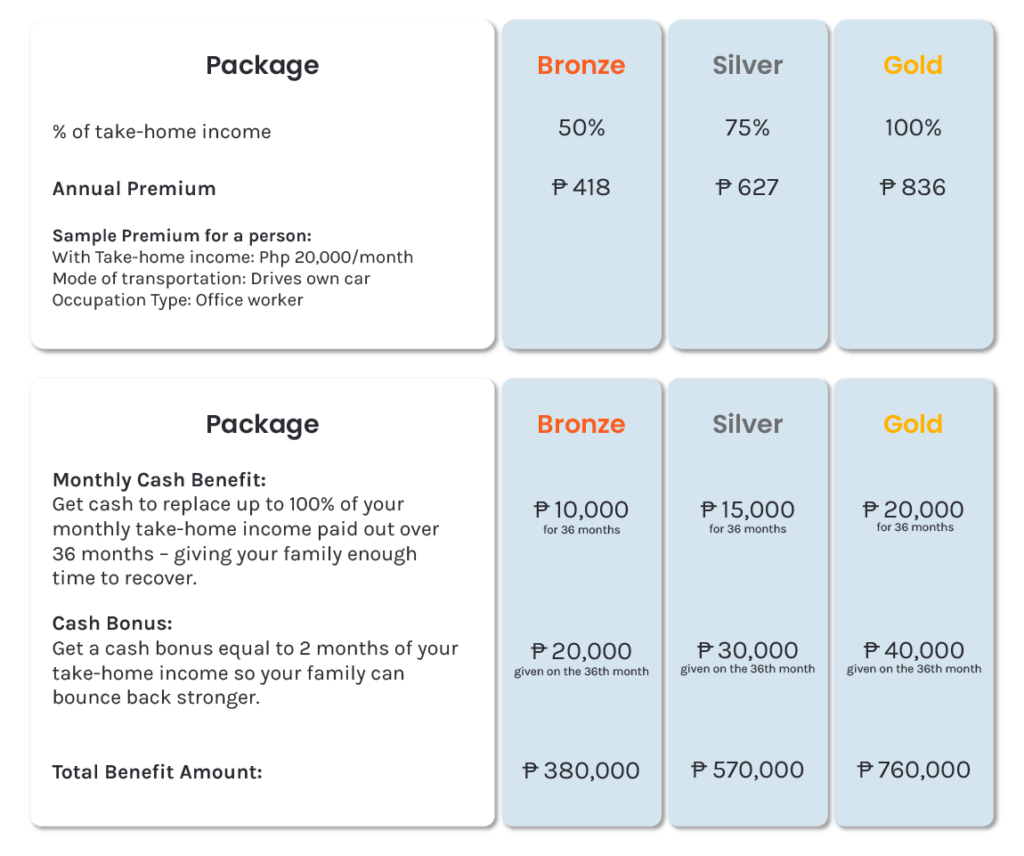 How can I buy this product?
You can buy this if you are:

18 to 64 years old

a fully-verified GCash user

a Filipino citizen or a foreigner who is a legal resident of the Philippines.
What are the benefits of this product?
Continue to support your family, even after an accident happens.

Monthly Cash Benefit

Get cash to replace up to 100% of your declared monthly take-home income paid out over 36 months – giving your family enough time to recover.
The duration is set automatically to 36 months during purchase.

Cash Bonus

Get a cash bonus equivalent to 2 months of your declared take-home income so your family can bounce back stronger.
What are the accidents covered by this product?
100% coverage for:

Travelling accident on land, air, or sea

Accidental drowning

Unprovoked assault

Fire-related accident

Accidental suffocation from inhalation of fumes

50% coverage for:

Accident while doing occupation-related task

Accident while doing high-risk sport or activity

Accident during acts of terrorism or attacks / warfare
Who can be nominated as my beneficiaries?
You can set at standard order or choose to name beneficiary/ies during purchase.

The standard order is as follows:

Surviving Legal Spouse;

Surviving legitimate, illegitimate, legitimated, legally adopted; or

Surviving parents; or

Surviving siblings

Estate
How many insurance policies can I avail from Singlife?
You can buy only one (1) policy of each GInsure product powered by Singlife. If you need a more comprehensive cover, you may upgrade to the highest coverage level.
How to purchase
STEP 1. Login to your GCash app, then click the GInsure icon
STEP 2. Choose "Cash for Income Loss (Accidents)"
STEP 3. Click "Get Started", then accomplish the necessary details for eligibility, profile, quotation, payment plan, and beneficiary
STEP 4. Review your details
STEP 5. Agree and tick on the Declarations box, then click "Confirm and Pay"
Frequently Asked Questions