Loans 101: Basics at best practices ng paghiram
Every year, maraming Pinoy ang umuutang o kumukuha ng loans para maabot ang iba't ibang purchases at opportunities. Examples of these are home purchases, college tuitions, or business capital. Loans are also popular para sa short-term emergencies o leisure spending.
Loans are a type of credit na mahihiram mo sa bank, other financial firms, kakilala, or even non-formal lenders. When done right, you'll get a reasonable loan that improves your financial situation at kaya mong bayaran. The flip side is pwede kang mabaon sa utang if you don't manage your loans properly. Kaya't para makaiwas sa predatory loans, Loans 101 will teach you everything about responsible borrowing!
In this guide, you'll learn:
The three basic components of any loan
What makes a good loan
Where to get a loan
Loan requirements
Loan types
Best practices for hassle-free loan application
Ang tatlong basic components of any loan
#1. Interest rate
When you take out a loan, paunti-unti mong ibabalik sa lender ang loaned amount in regular repayments. But on top of the loan amount, magbabayad ka rin ng additional fee called an interest fee. Ito ang bayad mo sa lender for loaning you money.
With this in mind, it's best to go for loans with low interest rates. This helps make your monthly payments cheaper.
For example: Bank 1 offers a Php 100,000 loan na may 7% interest rate. Therefore, babayaran mo ang lender ng additional Php 7,000 on top of your Php 100,000 loan.

Meanwhile, Bank 2 offers a Php 100,000 loan with a 5% interest rate. Dahil mas mababa ang kanilang interest rate, you only have to pay Php 105,000 in total.
Loan interest is either fixed or floating. Fixed interest rate means that it will stay at the same percentage hanggang matapos ang loan term. Floating (also called variable or adjustable) interest rates change monthly depending sa market o sa terms ng lender. Loans that usually have a variable interest rate are home loans and credit cards.
#2. Collateral
Before giving you a loan, lenders need assurance na mababayaran mo ito. Hence, kailangan mong mag-offer ng security component o collateral. All loans can be divided into two types: secured and unsecured.
With secured loans, kailangan mong mag-offer ng assets sa lender to secure your loan. These assets are called collateral. It can be your home, car, business equipment, and other high-value items. If you're unable to pay your loan, iki-claim ng lender ang iyong collateral as loan payment. Unsecured loans are loans na hindi kailangan ng collateral. Still, unsecured loans need proof of income.
In general, mas mahirap ma-approve for unsecured loans. You need a good credit score, good income, and stable employment. Mas mataas din ang interest rates ng unsecured loans. However, secured loans are riskier. You can lose your assets to the bank and get into more debt kapag hindi ito nabayaran.
#3. Term (also known as tenor o loan duration)
Ito ang length of time para mabayaran mo ang loan. Loan terms can be as short as 1 month or as long as 30 years. Generally, the longer the term, the lower the monthly interest rate. Still, kapag mas mahaba ang iyong loan duration, mas mataas ang total ng babayaran mong interest fee.
Term also covers the frequency of your loan payments. Most loans have monthly repayments that combine part of your loan amount plus interest rate.
As long as walang prepayment penalty, you can pay in full before your loan duration ends. Prepayment penalty is an extra fee na common sa home loans. It discourages you to pay early para hindi mawalan ng monthly interest income ang lender.
So what makes a good loan?
Given these points, the best loan is a loan na kaya mong bayaran in a reasonable amount of time. This is the best way to avoid getting deeper into debt.
From a financial literacy perspective, good loans are loans that make lasting positive impact on your well-being or net worth. May kasabihan na "it takes money to make money". Loans can help you afford  education, business, o real estate opportunities. In contrast, loans can also be used for luho items na hindi income-generating o tumataas in value. Iwasang kumuha ng loan for these reasons. Pwede kang mabaon sa utang kapag nakasanayan mo ito.
Saan makakakuha ng loan?
Mula sa kapitbahay hanggang sa bangko, maraming mapagkukunan ng loans. Still, it's best to avoid informal lenders. Aside from unregulated operations, they often have higher interest rates and shorter loan terms. May risk din of getting scammed kapag binigay mo ang iyong personal information. Instead, avail safe and secure loans at the following: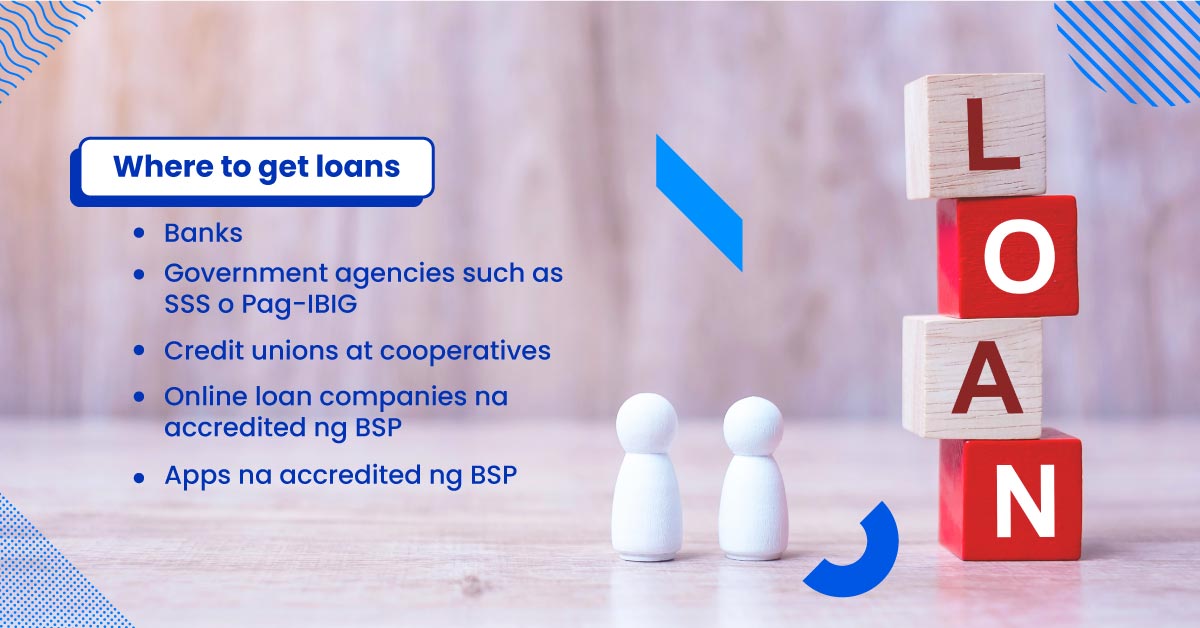 Each lender has their own set of advantages. However, the fastest loan can be availed online and via app. They are meant to be accessible and convenient by requesting less documents than traditional banks.
When it comes to getting a loan, which is your best option?
Online and via app: For fastest loan availment

Traditional banks:

For big loan amounts
Government agencies: For longer payment terms

Immediate loan approval and disbursement
Easiest and most streamlined application process
Does not require proof of income
Best option for people with bad credit history
Often more transparent with fees and penalties

Easier if you already have an existing bank account
Bigger loan amounts with longer terms
Face-to-face application lets you ask questions & negotiate loan terms
Requires proof of income and other financial documents
Loan approval not guaranteed

Loan restructuring programs allow longer payment terms
Loans are designed to assist with housing, calamity, and unemployment needs
Slower disbursement compared to banks and online
Paid back through salary deductions
Lower penalties and fees if you are unable to pay
If you only need money for bills or supplies before payday, we recommend GCredit. Ito ang mobile credit line ng GCash. A credit line or credit limit refers to the amount na pwede mong mahiram on a monthly basis.
In general, GCredit works like a credit card. Once activated sa app, pwede kang humiram ng up to 10k with an interest rate as low as 3%.
Magagamit ang GCredit sa sumusunod na GCash services:
Pay Bills sa selected billers
Pay QR sa GCash partner merchants nationwide
Pay Online sa selected online partners tulad ng Shopee, Google Play Store, and App Store
Once you pay your monthly due, automatically magre-refresh ang iyong maximum credit limit.
If you need to cash out for other purposes, GCash also offers GLoan. Ito naman ang lending feature ng GCash where you can borrow up to Php 25,000. To qualify for a GLoan, you need a certain GScore. Dependent din ang iyong mahihiram na amount sa iyong GScore.
If you are eligible for a GLoan, kailangan mo lang mag-submit ng application in-app. Once your application is processed, makukuha mo ang loan amount sa iyong GCash wallet within the same day. Reasonable din ang interest rates, walang pre-payment fees, at payable over 12 months ang iyong loan.
For both GCredit at GLoan, you only need a high GScore and full verification sa GCash app to qualify. Applying, using, and settling your loan and credit dues is easier with these services. Lahat ng ito ay magagawa mo in a few taps within the GCash app.
Common requirements para makakuha ng loan
Valid ID. Formal lenders need this para i-verify ang iyong identity at makuha ang iyong credit history.
Proof of income. To prove na kaya mong bayaran ang loan, lenders request for proof of income documents. Examples are: income tax returns from BIR company payslips, certificate of employment, and BIR 2136 form.
Financial statements. Instead of proof of income, ito ang requirement for self-employed individuals and professionals. Financial statements can be: income tax returns from BIR, registration of business name documents, latest bank statements, o proof of certification mula sa DTI o SEC.
Other qualifying requirements. These are requirements regarding age, minimum income, proof of residence, or citizenship.
For online at app lenders tulad ng GLoan o GCredit, hindi na required ang proof of income, financial statements, o collateral.
Common types of loans
Cash Loan. These are short-term loans that give you quick cash para sa emergency expenses. Examples are GLoan and quick loans from banks. You only need to file a loan request to get them.
Credit Card. A plastic card from a bank na magagamit to borrow money on demand. They are widely accepted as payment for goods and services. Lahat ng credit card ay may credit limit, from Php 5,000 up to millions. Para mag-refresh ito, you need to pay your charges kada buwan.