Cash for Dengue Costs
(with Free COVID-19 Cover)
Powered by Singlife
Product Description
What is Cash for Dengue Costs (with FREE COVID-19 cover)?
GInsure, in partnership with Singlife, offers Cash for Dengue Costs with a FREE COVID-19 cover* for as low as PHP300/year. Its multi-level benefit worth up to PHP421,500 covers allowance for positive test results and confinement, as well as medical cost reimbursement for more severe cases of COVID-19 and Dengue. 
*Free COVID-19 cover is available for the first 20,000 customers only.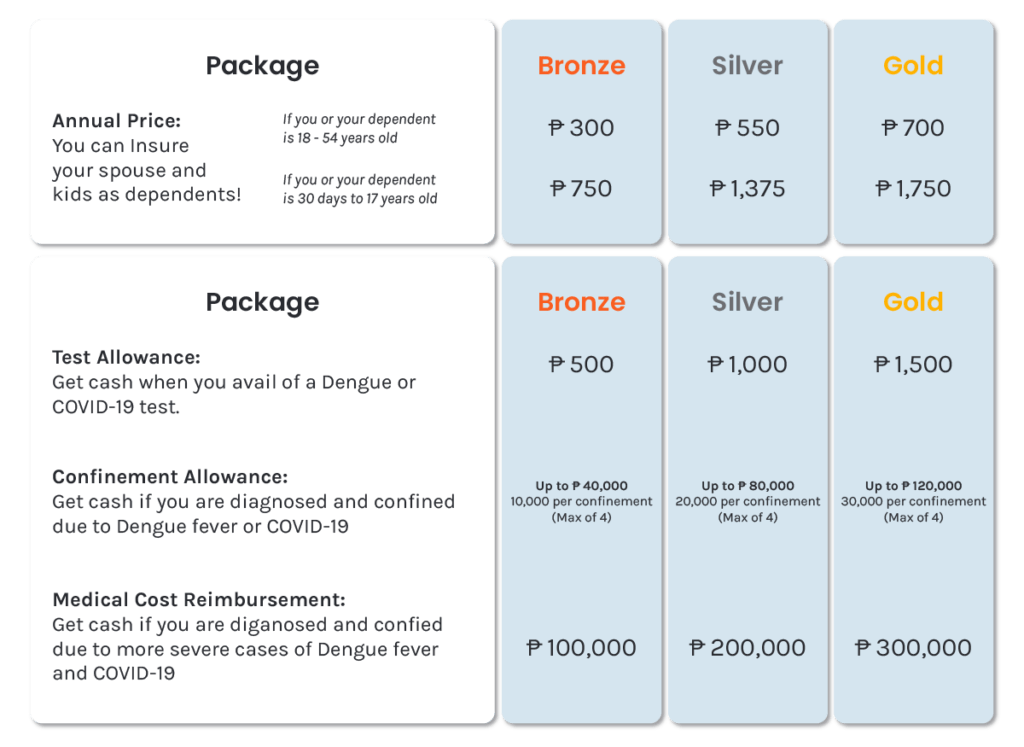 How can I buy this product?
You can buy this if you are:

18 to 54 years old

a fully-verified GCash user

in good health and has never been a 'confirmed COVID-19 case'

a Filipino citizen or a foreigner who is a legal resident of the Philippines.
What are the benefits of this product?
Test Allowance

Get cash when you avail of a Dengue or COVID-19 test (only positive results).

Confinement Allowance

Get cash if you are diagnosed and confined due to Dengue fever or COVID-19

Medical Cost Reimbursement

Get cash if you are diagnosed and confined due to more severe cases of Dengue fever or COVID-19
Who can be nominated as my beneficiaries?
You can set at standard order or choose to name beneficiary/ies during purchase.

The standard order is as follows:

Surviving Legal Spouse;

Surviving legitimate, illegitimate, legitimated, legally adopted; or

Surviving parents; or

Surviving siblings

Estate
How many insurance policies can I avail from Singlife?
You can buy only one (1) policy of each GInsure product powered by Singlife. If you need a more comprehensive cover, you may upgrade to the highest coverage level.
How to purchase
STEP 1. Login to your GCash app, then click the GInsure icon
STEP 2. Choose "Cash for Dengue Costs with Free COVID-19 Cover"
STEP 3. Click on the chosen coverage plan, then accomplish the necessary details for eligibility, profile, quotation, payment plan, and beneficiary
STEP 4. Review your details
STEP 5. Agree and tick on the Declarations box, then click "Confirm and Pay"
Frequently Asked Questions