Send P1, Get a Jollibee Chickenjoy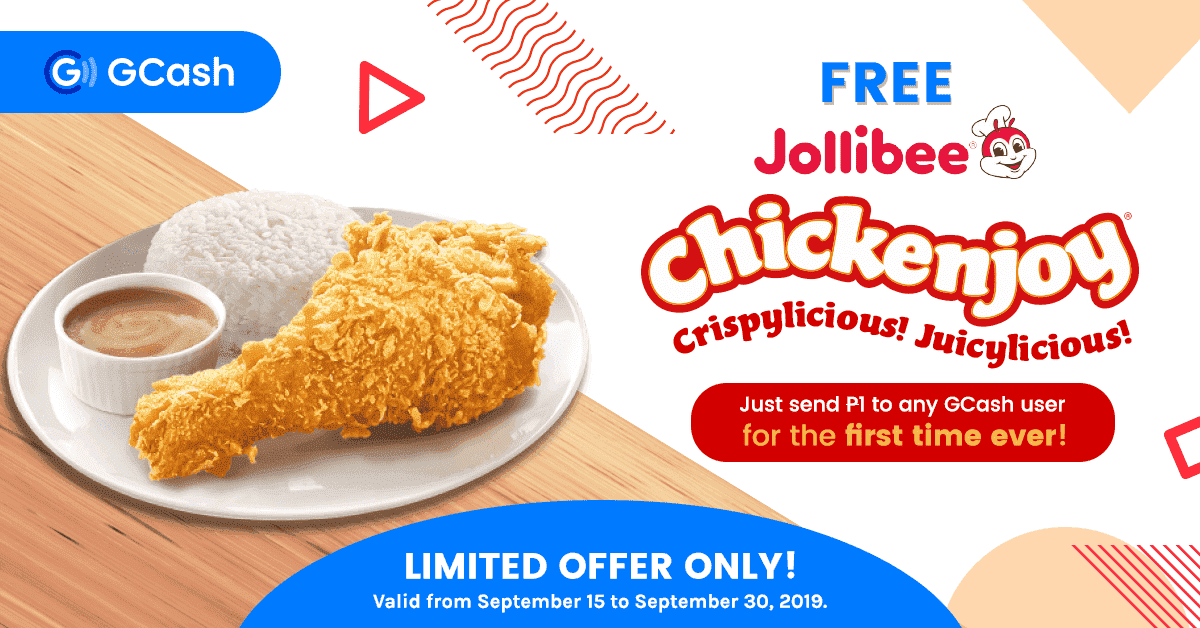 Promo Mechanics
Open to all GCash users who have not yet completed a Send Money transaction ever since account registration.

Promo is valid from September 15 to September 30, 2019.

If a qualified user sends exactly P1 to another GCash subscriber for the first time ever, s/he will get a free Jollibee Chickenjoy.

GCash will use the customer's first-ever Send Money transaction to determine if user is qualified for the incentive.

Customers can only get a prize once during the promo, regardless of whether they sent the money via App or Facebook Messenger.

The customer will get an SMS notification within 5 working days on their successful transaction to be able to claim their treat.

To redeem the FREE Jollibee Chickenjoy, the customer must proceed to any participating Jollibee store nationwide and present the unique Jollibee treats promo code sent to the user's registered mobile number in exchange for the corresponding actual Jollibee treat(s).

One (1) Jollibee treats code is equivalent to one (1) free Jollibee treat. The Jollibee treats code may only be used once.

In case of dispute in respect to the GCash subscriber's eligibility, actual SMS, Jollibee treats code presented, etc., GCash's decision shall prevail. All questions or disputes regarding the cardholder's eligibility for the promo or for any redemption shall be resolved by GCash at its discretion.

GCash reserves the right and has the authority to deny rewards for incorrect user data, fraudulent transactions, or promo abuse.

This promo cannot be combined with other GCash promos.
Frequently Asked Questions