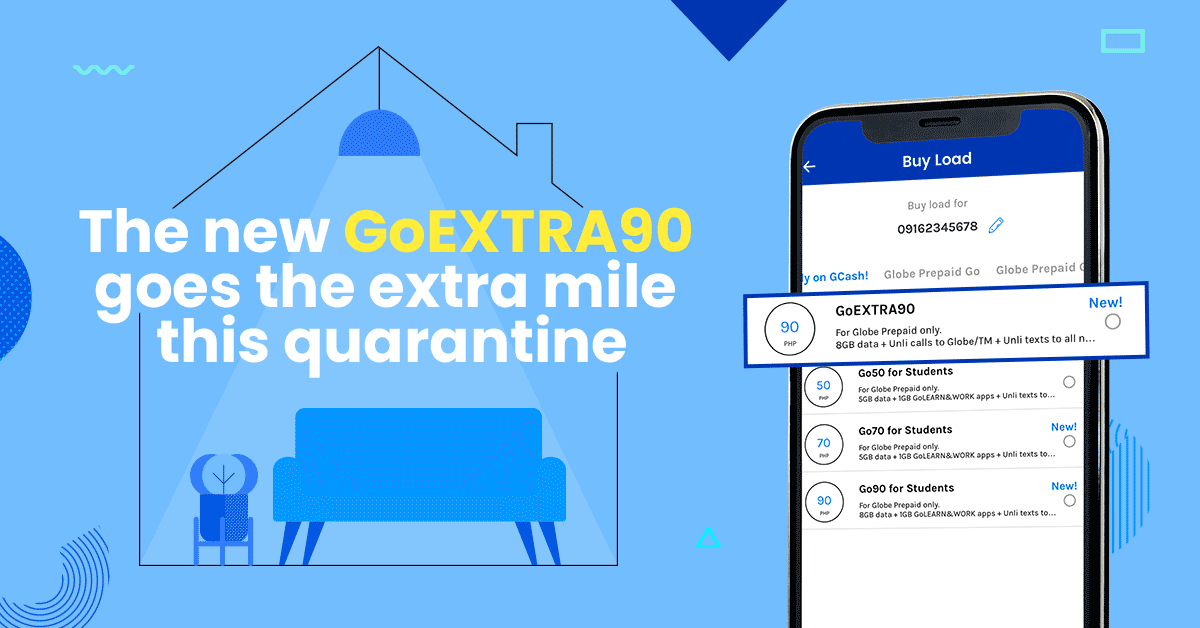 GoEXTRA90 goes the extra mile during quarantine
GCash has always been at the forefront when it comes to providing the best load deals for Globe Prepaid and other networks through Buy Load! Now, they're back with another great update to one of their most popular load promos, so you can be a little more extra during quarantine. The new and improved GoEXTRA90 now comes with 9GB worth of data and other freebies, valid for 7 days for only P90—exclusively on GCash! 
Previously, this load promo only promised 2GB worth of data and 1GB GoWIFI Access which is definitely not enough for a modern subscriber's daily activities for an entire week. The bigger and better GoEXTRA90 boasts 8GB worth of data, 1GB of GoWIFI Access, and unlimited calls to Globe and TM subscribers, plus unlimited texts to all networks! Talk about bang for your buck, right?
Now, let's get into how you can maximize what this load promo has to offer within a week. Here are 7 things you can do in 7 days with GoEXTRA90:
Call your family to check on them
The unlimited calls (only to Globe and TM subscribers) allows you to reach out to loved ones that you haven't been able to see these past few months, because staying in touch with family is important during times like this!
Work from home effectively
With the huge upgrade to GoEXTRA90's data allocation, you have enough to work on your day job and your personal projects for the week!
Text the barkada about your day
Make up for all the postponed hangouts with your friends by letting them know how you've been and what you've been up to recently with GoEXTRA90's unlimited texts to all networks!
Shop online for home essentials
Give your space the upgrades you've always wanted. It's time to check out that new desk, chair, lamp, and more from your Lazada cart! Remember, you can access Lazada on GCash now and pay with your GCash wallet too!
Sell homemade goodies online
Turn your hobbies into a side hustle while you're at home. Set up your own online store on social media and show everyone that you have some special products for sale!
Play your fave mobile games
GoEXTRA90's bigger data package makes it possible for you to take your mind off of work and enter your own virtual world on your phone. Boot up Mobile Legends and work on your rankings, or start a Battle Royale on Call of Duty to blow off some steam! You can also get Gaming PINs on GCash while you're at it!
Watch a series on streaming apps
Cap off your day with an episode or two of that new KDrama on Netflix now that you've got more than enough data with GoEXTRA90's 9GB data allocation!
To register to GoEXTRA90, just follow these simple steps:
Login to GCash, select Buy Load and input your number.

Go to 'Only on GCash!' tab and select GoEXTRA90.

Press 'Confirm' and enjoy surfing!
The new GoEXTRA90's features are definitely a great deal at an affordable price! Get yours now and have a productive week ahead!
If you have any questions or concerns, visit the GCash Help Center to submit a ticket so we can help!
Don't have GCash yet? You can download the app on the Play Store, App Store, or Huawei AppGallery. Register to GCash and get verified today!