Start going cashless with contactless payments at SM Markets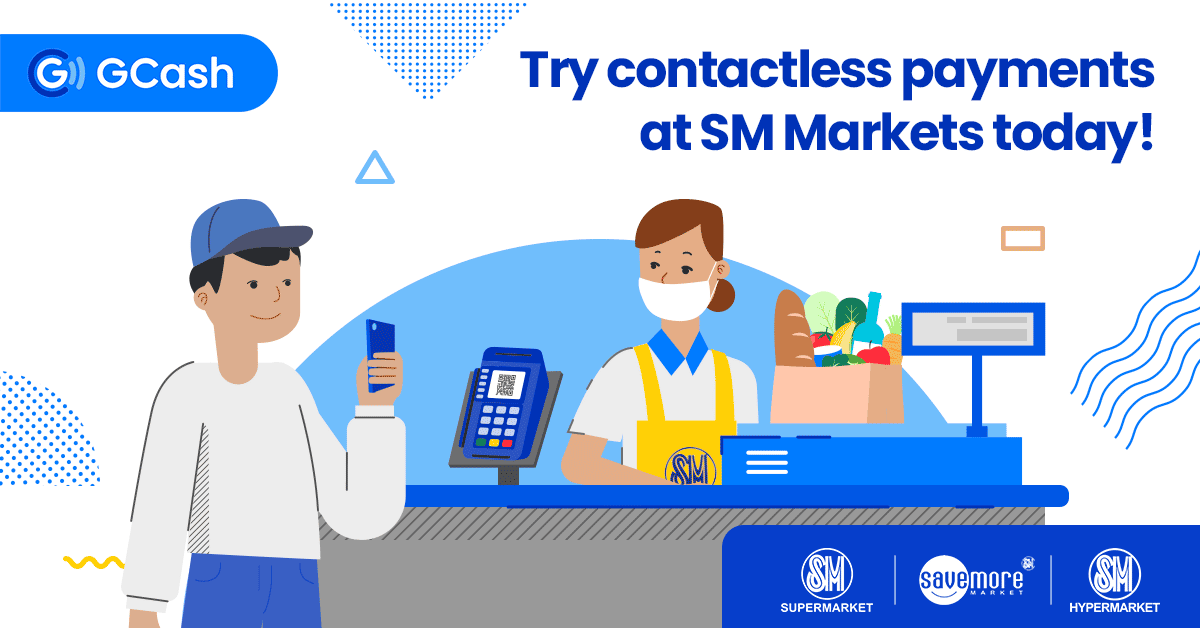 It's 2020 and change has indeed come — just not in the ways we expected. The threat of COVID-19 has turned our routines upside down. We've worked around going to banks and payment centers, and we've changed all the ways we interact with each other to avoid the risk of virus transmission. In case you missed it, we are now living in the new normal.
In the new normal, cash is no longer the main way to accomplish things. Millions of people have registered to GCash to complete money errands they could no longer do outside. And why not? All you need is a smartphone, a mobile number from any network, and the GCash App to pay for EVERYTHING in a quick, secure, and convenient way.
However, if you're still hesitant to use GCash to pay bills, send money, and more, that's also okay! You can slowly adjust to the new normal by incorporating GCash into a regular MECQ routine, such as getting groceries. Contactless payments, especially GCash Scan to Pay, is a good fit for beginners because it's easy to use and immediately accessible. All you have to do is log in to the GCash App, swipe left, and scan the QR code at the counter upon payment. That's already three-fourths of the payment process! Start by using GCash Scan to Pay at SM. GCash is accepted at over 200 SM Markets nationwide, so you can try contactless payments on your next socially-distanced grocery trip!
So how can GCash Scan to Pay help you with shopping at SM Markets?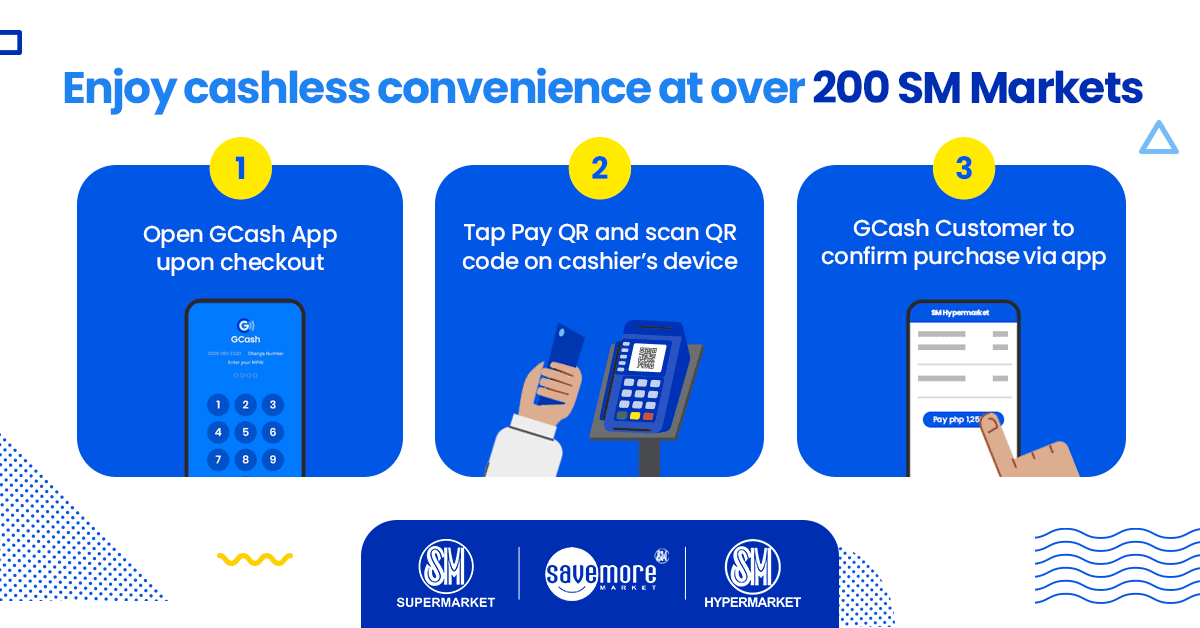 You'll skip doing the extra work of looking for an ATM.
One of the downsides of social distancing is having to line up just to enter the grocery of your choice. Finding an ATM to get cash will take up the precious time you could be using to join the grocery entry line. And that's not yet factoring in the additional time wasted if the ATM also has a line! Compare this to the GCash App, which you can top up, or 'cash in', through online banking or linking your debit card. With a few taps on your smartphone, you can cash in the amount you need just before you leave the house — or even while lining up to enter the grocery.
You'll skip touching cash.
Cashless payments are encouraged by the World Health Organization, warning that cash, like surfaces such as ATMs and door handles, can also carry coronavirus. If you've seen the photos of busy malls since MECQ started, you know you'll need every bit of protection against the virus the next time you shop for groceries. By using GCash Scan to Pay to pay for your supplies, you'll be able to decrease your use of cash.
You get to use GCredit for petsa de peligro moments.
Once you've done enough transactions on the GCash App to raise your GScore, you'll unlock another awesome GCash feature: GCredit. It's your own mobile credit line that you can use to pay for bills and GCash QR purchases when you're low on funds. SM Markets that accept GCash also accept GCredit. This means you can still shop for your needs even during petsa de peligro, by choosing GCredit as your fund source when you pay with GCash Scan to Pay!
You'll have a record of your grocery transactions.
If you're the budget-conscious type, you'll know that keeping track of your weekly or monthly expenses is hard. It's even harder when you keep losing your receipts as soon as you get home. GCash keeps a transaction history of your payments, so if you use GCash Scan to Pay for your SM groceries, you can easily track your spending. Just log in to your GCash and send your transaction history to your GCash-registered email.
Start incorporating GCash Scan To Pay at your next SM Markets trip! Aside from the perks mentioned above, this contactless way of paying will not sacrifice any of the speed, convenience, and security that you get from paying with cash. Once you're used to paying cashless, you'll be empowered to try more GCash services such as Buy Load, Pay Bills and Send Money. So download the GCash App now and check out if your nearest SM Markets accept GCash payments. Before you know it, you'll be well-adjusted to the new normal of cashless living in no time!