Get inspired by these wonder women!
Women's Month has come to a close, but celebrating women should not stop there. We, at GCash, are one with you as we continue to empower and create opportunities for women in the Philippines through the use of the GCash App, which you can also register to and download for yourself!
Let's shift our focus to these influential women that we were fortunate enough to talk to and gain some important insights from these past few days!
ISSA BARTE, digital artist and founder of Fund The Forest
Tell us a little bit about what you do.
I'm a digital artist, and also the founder of Fund The Forest, a non-profit project that aims to make helping easily accessible and information easily digestible to empower our partner communities and their homes. 
What's the biggest challenge you've had to face?
In my art, the biggest challenge in being entrusted with people's stories and emotions is really keeping a level-head. I think people expect me to be able to juggle all these feelings of strangers well because I'm adept at handling my own emotions, but it was a skill I had to learn the hard way in pursuing this type of art. What made it worth it was how these strangers would message me thank you's about how connecting to others through my art had helped or saved them in one way or the other. 
Was there ever a time when you felt marginalized in the workplace/society because you're female? If yes, tell us about it.
I've had the opportunities to travel more often because of my work, and when I do travel alone, these gender disparities are more evident. I'm told to dress a certain way, keep my guard up, never lose focus when in transit— things I don't hear my male-counterparts receiving.
What accomplishment are you most proud of?
I'm most proud of my work with Fund the Forest. It's crazy to see what I had just dreamed about come to life with my team. 
Who are the women that inspire you?
My hero really is Greta Thunberg. She started by herself in front of the Swedish Parliament, but today leads millions of kids all across our seven continents to demand for a future where we can still dream. She doesn't back down, she knows her goal. Everything she does is done with intent— and all of it is done towards our world— for something greatly beyond herself. Her speeches and messages are really one of the huge factors of why Fund the Forest is here today, fuelled by storytelling and collaboration. Greta's one of the people that showed me it's possible. 
How does GCash empower you?
GCash has been one of the avenues that Fund The Forest uses in funding our partner communities.
Any words of advice for the women of the Philippines?
First, there were rocks, then there was the world! We must set off to see it with our womanhood as our capes! Not as our chains.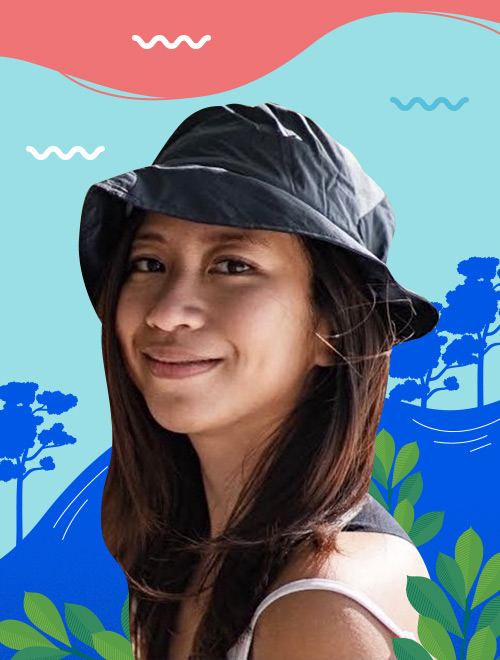 NELLA LOMOTAN, owner of Eco Explorations PH and SoulSpeak Yoga PH
Tell us a little about what you do.
My personal advocacies and pursuits are all intertwined by a desire to use my life as a medium in contributing to nation-building & to making a positive impact in whatever I do  – whether it's through sustainable tourism through ecoexplorationsph.com @ecoexplorations for biodiversity conservation and community empowerment and development, through helping people heal mentally and emotionally through health and wellness tourism via @soulspeakyoga, or providing avenues for people to discover, hone, and be connected to passions like the arts through our various activities. I also hope to show God's goodness and faithfulness and to bring glory to Him in everything I do and to bring people closer to Him in my own ways. 
Growing up I had no idea that I would be doing the things I am doing now but I believe this purpose was placed in me by God because it is my own unique calling. I can also say that my openness to experiences, in exploring the world we live in and finding myself in remote, often unexplored places, connecting to the locals who call them their home and seeing and experiencing firsthand the issues that needed to be resolved has greatly deepened my understanding of my role in society. My former role in one of the largest F&B chains in the Philippines, The Coffee Bean & Tea Leaf, where I was given the humbling opportunity to lead internal & external community & CSR programs for 7 years also greatly contributed to me deepening my understanding of my life's purpose, and I will forever be thankful for all these experiences.
What's the biggest challenge you've had to face?
One of the biggest challenges I had to overcome especially, in the beginning, was the emotional struggles I had to face. At Eco Explorations, we work with various Forest & Wildlife Rangers, marginalized communities, and indigenous people. As I was exposed to the injustices that plagued the communities and people I was working with, this took an emotional toll on me – I would feel very heavy and down about things, and I couldn't separate it from my own personal life. But I soon realized as well that if we wanted to be hope for others or to provide that hope, then we shouldn't be the first to lose hope and we should take care of ourselves emotionally and mentally.
Was there ever a time when you felt marginalized in the workplace/society because you're female? If yes, tell us about it.
I am very grateful that in all my encounters and experiences both professionally and personally there wasn't a time I didn't feel empowered or encouraged as a woman to use my voice and stand up for the things I believed in. I believe today's society, for the most part, is respectful and encouraging of women and see the valuable role both women and men play in society. But I believe every woman should be assertive, to be bold in her pursuits and to not allow gender, disposition, or any matter to undermine her unique capacities.
What accomplishment are you most proud of?
The truth is, I believe that we should never feel that we are accomplished or that the things we've done are. Because we should always push ourselves to keep elevating what we've done, to keep improving and innovating and being creative with how we respond to our times. 
I'm very honored to have the opportunity to be entrusted by the communities & people I work with to do the work called for me to do and to collaborate together to achieve collective objectives. Trust is the foundation for many relationships both personal and professional and this is something I value most, building and fostering trust amongst my partners, colleagues, and the local communities. 
Who are the women that inspire you?
There are so many! Instead of narrowing down to select individuals which would not give justice to the many amazing women I am inspired by day to day, in general, I have been greatly inspired by the people in my immediate family, community and the different women I've encountered both professionally and personally who use their lives to contribute to something greater. Who are not self-centered instead others-centered, who are always seeking ways to use their positions to leave positive contributions where they are, and most of all who not only speak up but act according to what they believe in. 
How does GCash empower you?
A mentor, our CEO in The Coffee Bean & Tea Leaf would always say, "time is of the essence." And I've been conditioned to be conscious and careful in how I utilize my time because it really is a valuable commodity that should be value-giving and not wasted. 
Having GCash enables me to save so much time that I would have otherwise spent on doing the things it conveniently gives me access to do with not much time, and so it is one of those empowering tools in today's mobile age.
Any words of advice for the women of the Philippines?
Never hold onto just yourself- your will power, your courage, and strength. Hold onto something bigger and do it for something bigger than yourself. For me, that was my faith in God, and the desire to use my life for His glory and to contribute to our nation.
DAN MAJAROCON, managing director of Lalamove
What's the biggest challenge you've had to face?
When I was starting my career, I noticed there was a lack of women leaders who could mentor the younger generation especially in the tech industry.
Luckily since then I have been given the opportunity to work for and with brilliant women across different industries. 
Was there ever a time when you felt marginalized in the workplace/society because you're female? If yes, tell us about it.
I've been very fortunate to have worked in leading companies run by people who empower their employees regardless of race, gender, or background. Sadly this is not the case for all, and I believe the best way to get past this is to (1) first acknowledge that it exists, and (2) take concrete, actionable steps towards eradicating it. 
However, the Philippines is moving ahead of other countries with regards to gender equality in the workplace, as we do tend to see a higher ratio of females in key leadership roles compared to other countries. 
What accomplishment are you most proud of?
I have been so blessed to work with such hardworking people whose mission is to empower local communities — helping small businesses, giving a livelihood to drivers; it's not every day you get an opportunity like this and I intend to continue paying it forward. 
Now more than ever I am so proud to be a part of the Lalamove team and working alongside Partner Drivers, as we strive to help deliver the essential needs of residents from Manila and Cebu like food, medicine, and the needs of our frontliners like social workers, people in healthcare, military and police men who do need support during this time. 
Who are the women that inspire you?
My mom inspires me the most. Her strength, grace, passion, and determination have helped shape me into the woman I am today. 
How does GCash empower you?
GCash has always been a leading figure on breaking barriers in the Philippines. From providing easier access to bank accounts for the unbanked to providing benefits to our Lalamove Partner Drivers, GCash has gone above and beyond to help Filipinos. They are truly an inspiring example and other companies should follow suit. 
On a personal note, I have been saved so much time by GCash's services — I send money, transfer to other banks, pay for ALL my bills, send load to others, and save using GSave.  
Any words of advice for the women of the Philippines?
Build each other up by supporting each other. I also encourage women leaders of today to take time to mentor and guide the younger generation. Nothing is stronger than empowered women working together to achieve one goal.